Atlantic Canada, are you ready for Architek Percussion?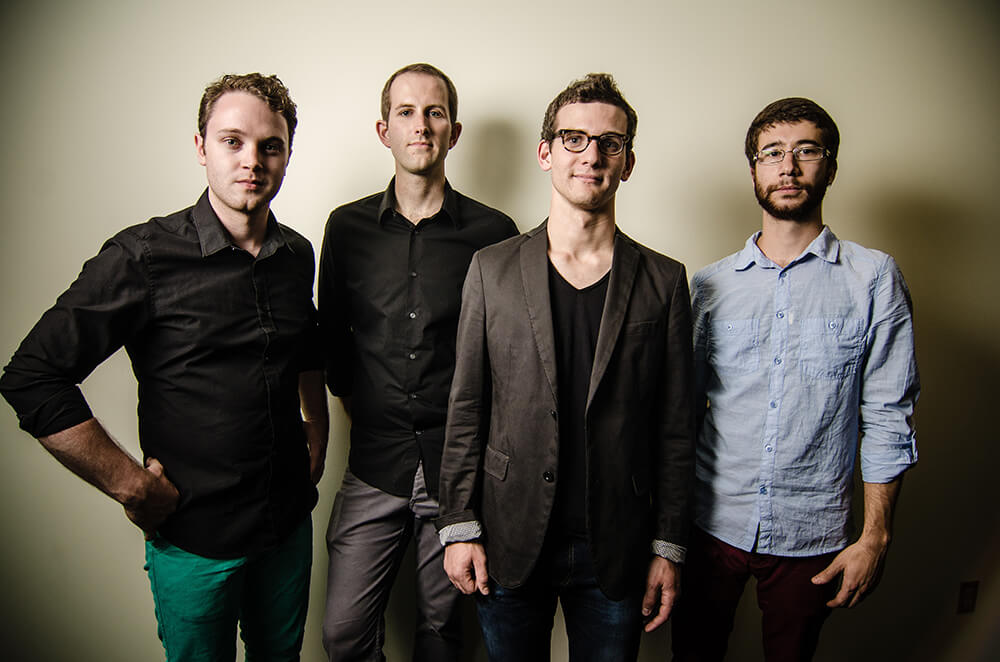 Audiences in Atlantic Canada are in for a treat.
Architek Percussion is taking its unique blend of minimalist, electroacoustic, multi-disciplinary chamber music on an eight-concert Debut Atlantic tour from March 10 to 24. They posted the group selfie, above, moments after hitting the road from their home base of Montreal.
A performance by Architek Percussion typically appeals to your head as well as your heart. First, the members lure you in with the astonishing, mathematical precision of their playing; then they sweep you away with an immersive sonic experience that almost overwhelms. Their focus and grativas somehow unlock the emotional power of the music.
For this tour, the members of Architek Percussion are Dan Morphy (replacing Ben Duinker), Mark Morton, Ben Reimer and Alessandro Valiante, and they'll be playing an appealing mix of contemporary music.
Highlights inlcude Christos Hatzis's "Odd World" from Constantinople (above), a newly commissioned work called Horizontal & Vertical Forces II by Montreal composer Anthony Tan, the first movement of Steve Riech's iconic 1971 work, Drumming, and this transcription for mallet insturments of Nico Muhly's Fast, Twitchy Organs.
For the two Newfoundland and Labrador dates, Architek will only have one marimba on hand, so the repertoire will be a bit different. Those concerts will be a rare opportunity to hear Dark Full Ride for four drum sets by Julia Wolfe, the MacArthur Fellow who won the 2015 Pulitzer Prize in music. Watch their performance of this work below.
Here's the tour schedule:
March 10: The First Church of the Nazarene, Moncton, N.B.
March 11: Immaculata Hall, Antigonish, N.S.
March 13: Rotary Arts Centre, Corner Brook, N.L.
March 15: The Music Room, Halifax, N.S.
March 16: Dr. Steel Recital Hall, Charlottetown, P.E.I.
March 18: Théâtre LER Auditorium, Dalhousie, N.B.
March 22: Lawrence O'Brien Centre, Happy Valley-Goose Bay, N.L.
March 24: th'YARC Playhouse and Arts Centre, Yarmouth, N.S.